Our own creation with the beauty of copper piping
Regular price
€1.690,00 EUR

Excl. VAT
Regular price
Sale price
€1.690,00 EUR
Unit price
per
Sale
Sold out
40 items available
(4-6 weeks delivery time)
The Copperhead comes with:

– dimmable LED 2400K / 2x 23W / 2x 1020Lmn
– internal push-dim dimmer
– 3.0 meter of black textile cable
– suspension set 2.0m.
The fixture has been constructed and tested to EN 60598 directive of European Harmonized Legislation. 110Volt wiring available on request.
4 – 6 weeks production time (this is without shipping)
Specifications

Weight: 7 kg
Dimensions: 144 x 21 x 5 cm (L x W x H)
Shipping: Worldwide

Detail Information

As an ideal complement to the golden-red copper piping, the core of the Copperhead lamp is crafted from an innovative material made of textile waste. Presenting a sustainable alternative to wood, it is generally used to create picnic tables or construction material. With the right treatment we were able to highlight its intriguing texture and discover the unique potential of this special composite. With its earthy green color and rough structure, we found the perfect contrast when paired with the graceful lines and rich tones of the oxidized copper pipes.
Our Items

Restoration
All our pieces are restored and modernized so that the will last for decades to come. Please note that all original makers' marks and labeling are to be disregarded, and that we recommend using all items internally, including those originally designed for external use.

Website images
Our items have had a previous life. This means they often show signs of their previous life, which in our opinion, is part of their charm. Please note that when multiple items of the same type have been salvaged from one site, only one of the items is shown on the website as an example. The item shown is always representative of all items within that specific batch. On request, we provide images of a particular item.

Installation of lights
We prepare our lighting fixtures for installation. The black electrical cable that comes with the lighting fixture is already connected, and if bulbs or fluorescent lights are included, these have been installed in advance. We recommend to have all lighting fixtures installed by a qualified electrician.

Customization
Items can be customized on request. If you have any special requirements, just get in touch with us and we will do our utmost to provide what you are looking for.

Dimmable fluorescent lighting
Fluorescent lights have the fine quality of producing a bright light. Perfect for office environments, but not always that best atmosphere for living spaces. With our dimmable customization, fluorescent lights can vary from 3% to full strength, emitting a warm and pleasant glow. Please contact us for more information on our dimmable fluorescent lights.
Delivery time

The delivery time of a fixture depends on the location. The average shipping duration ranges from 3-10 business days.

Please keep in mind that our products typically require 4-6 weeks production time before shipping.

View full details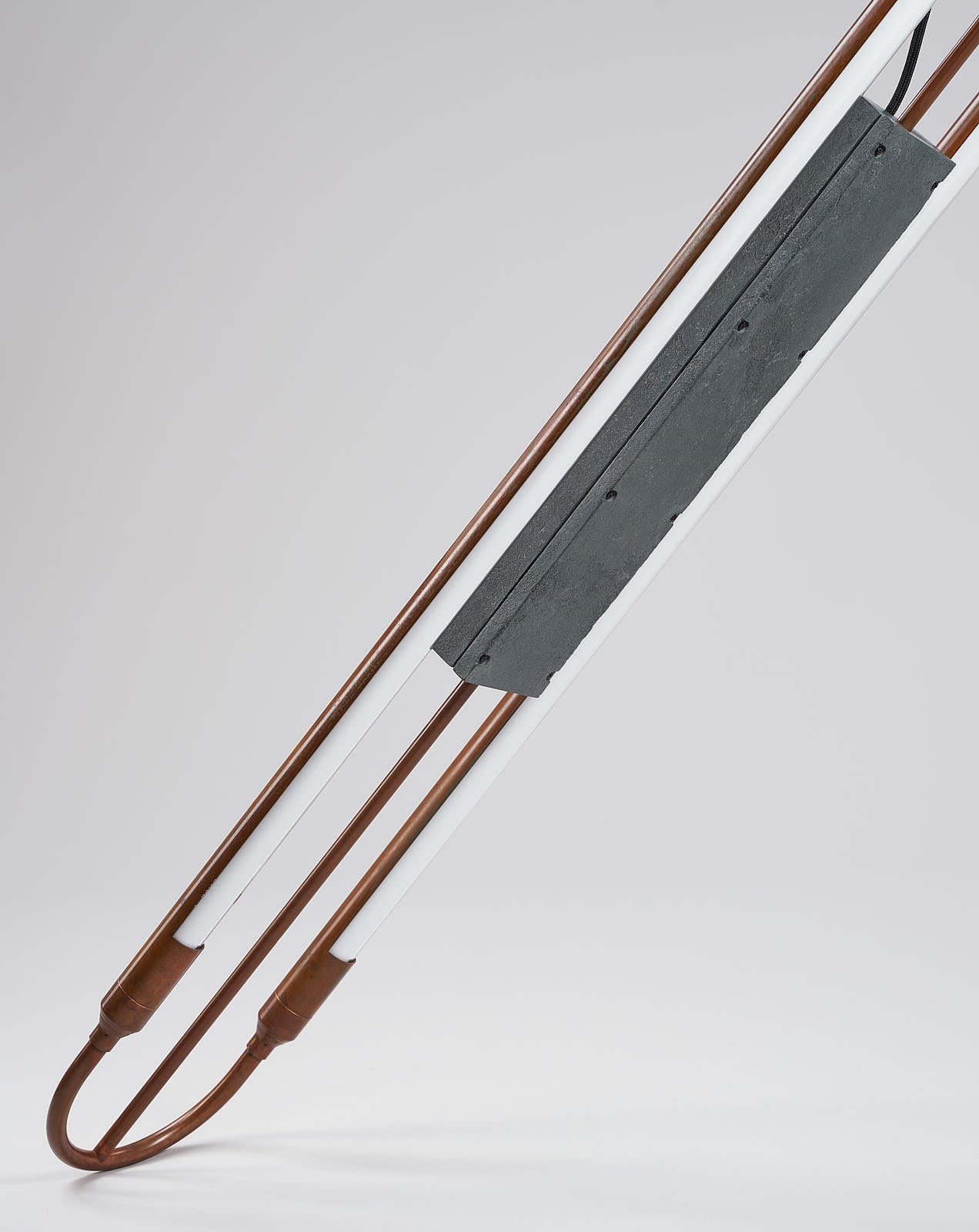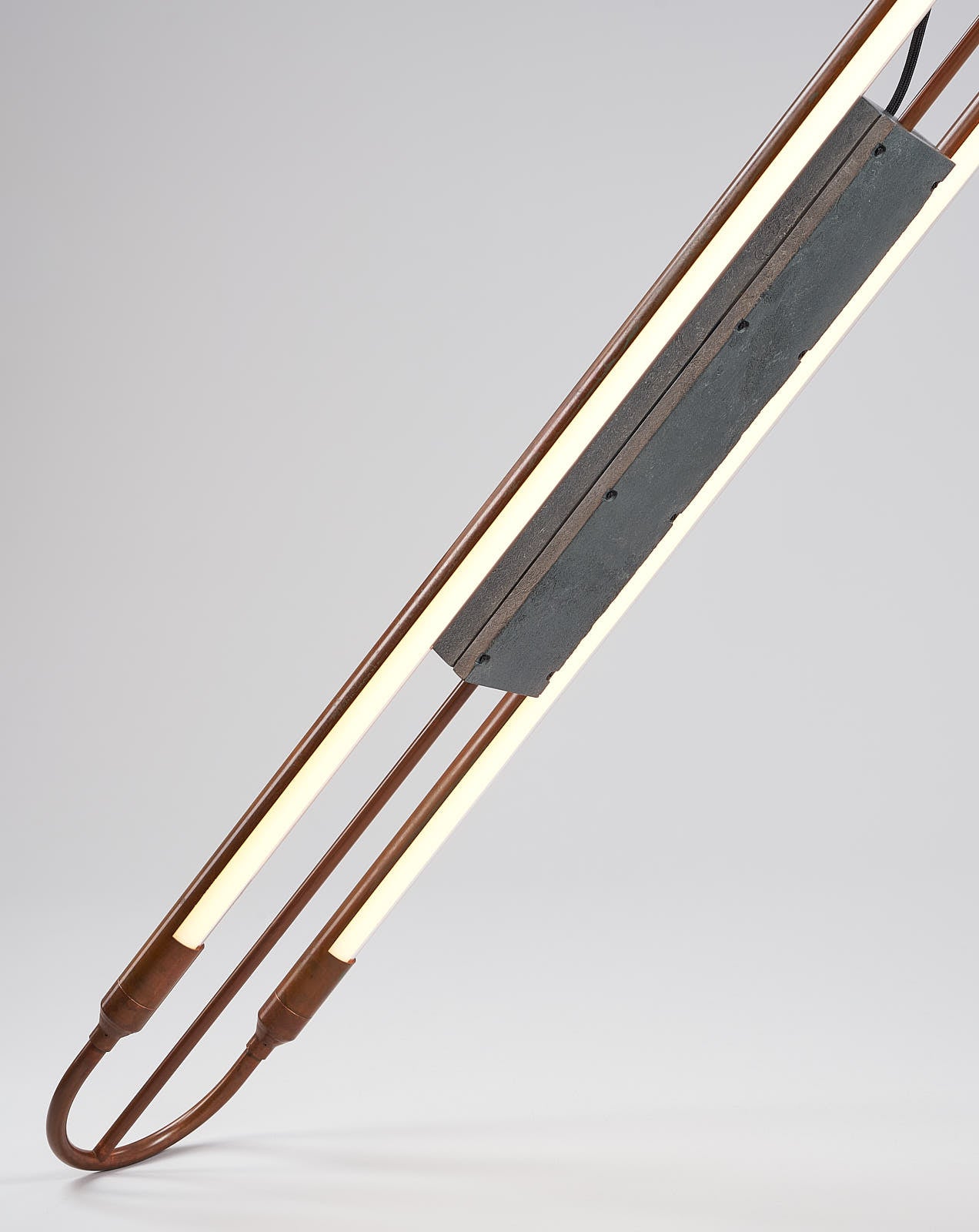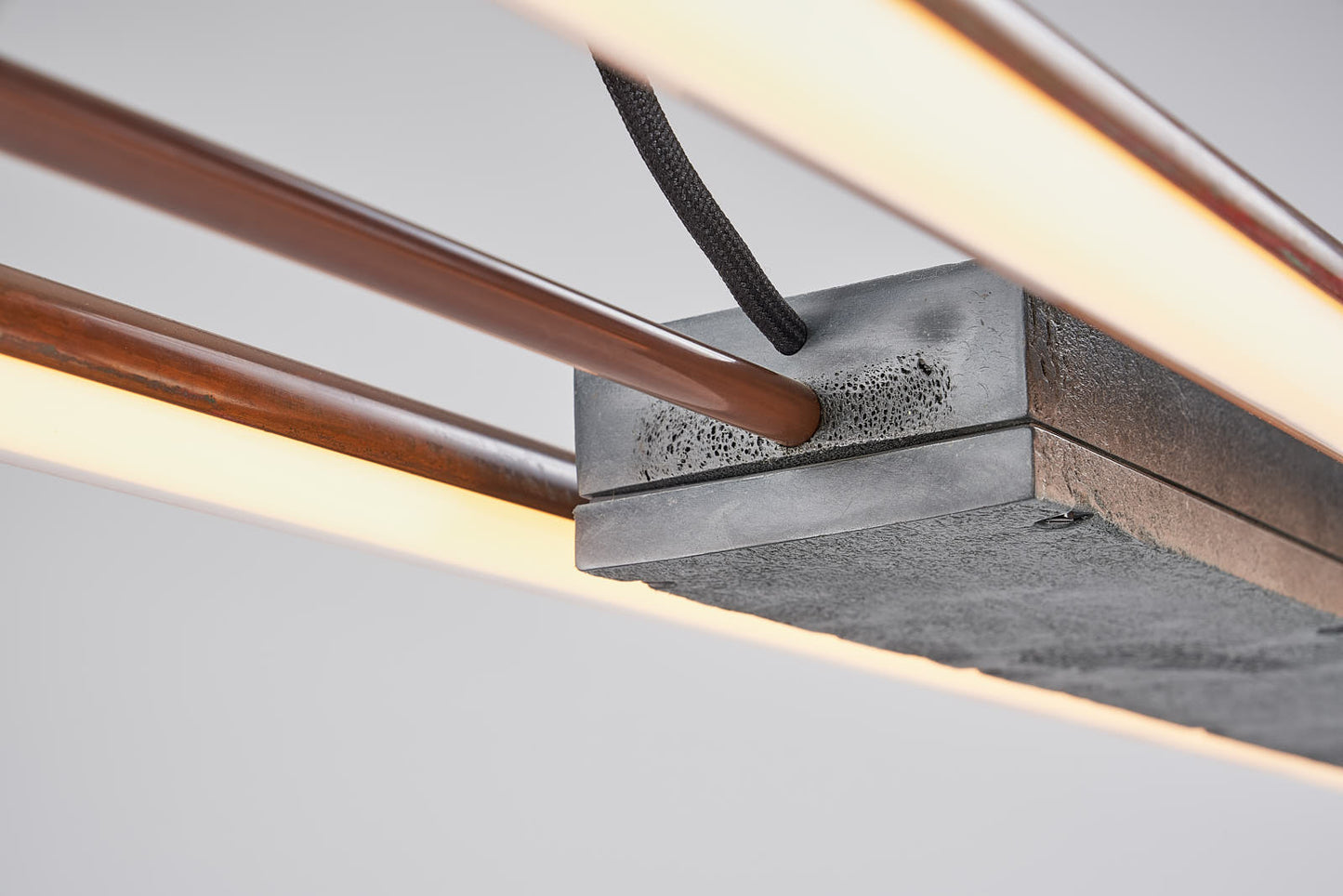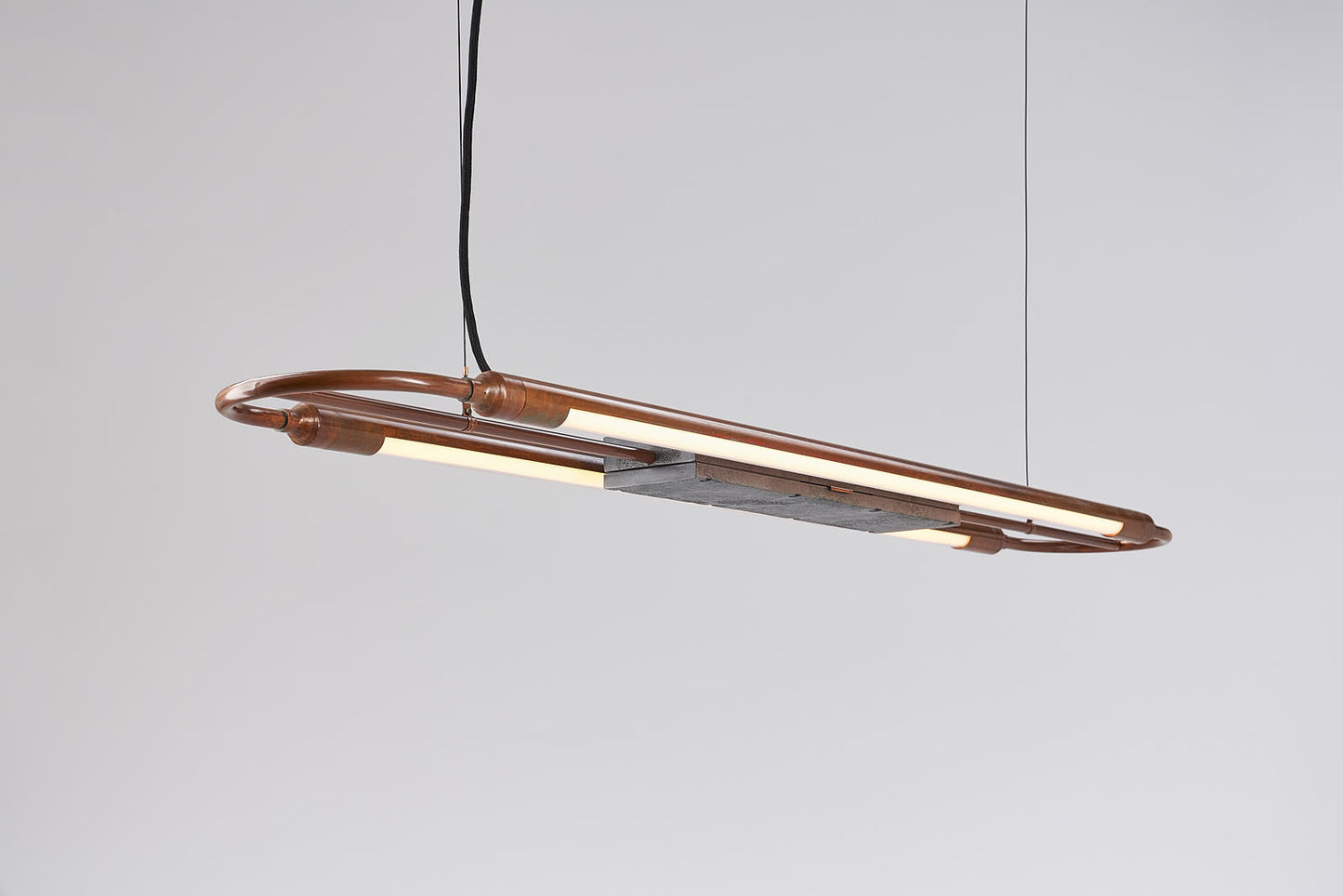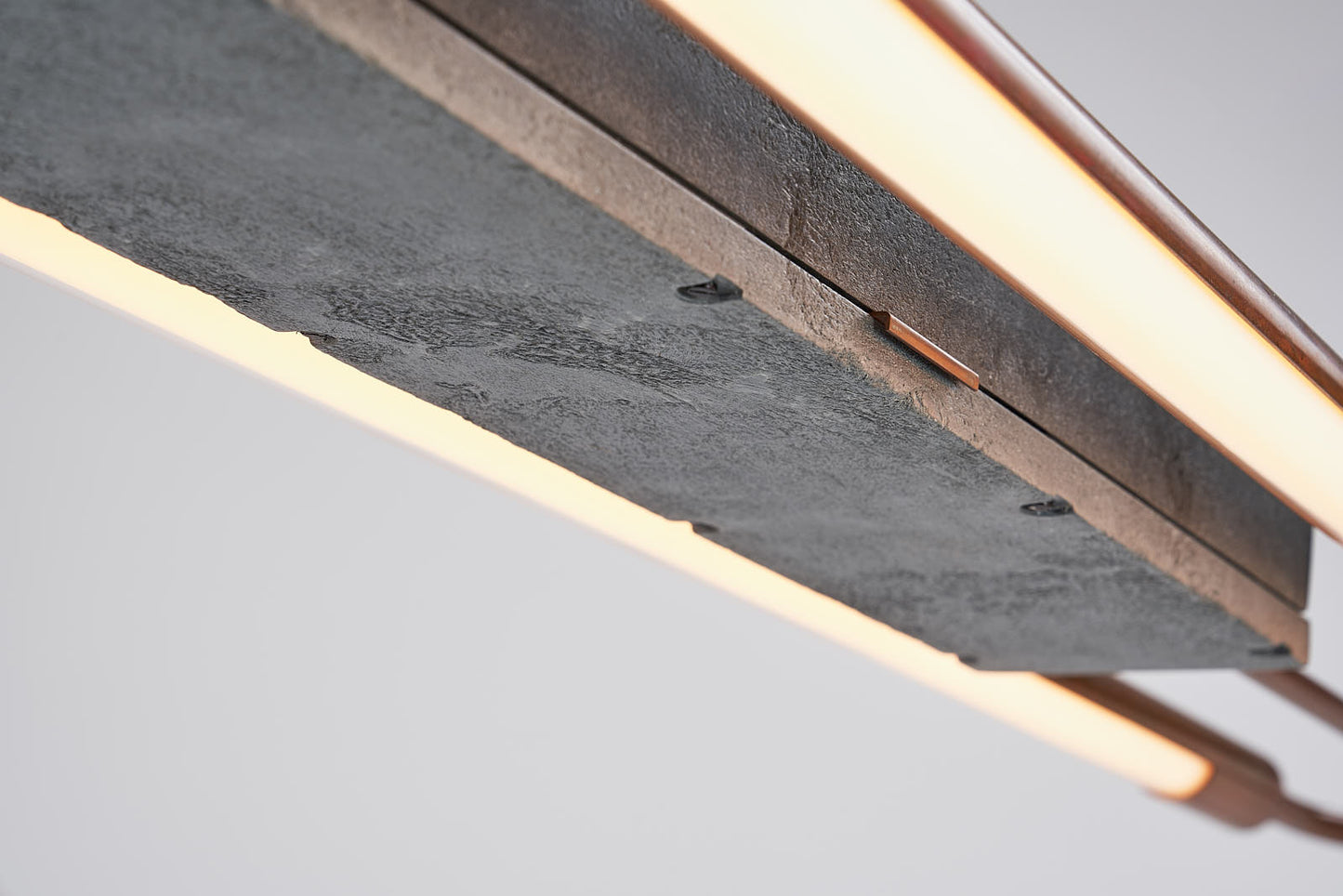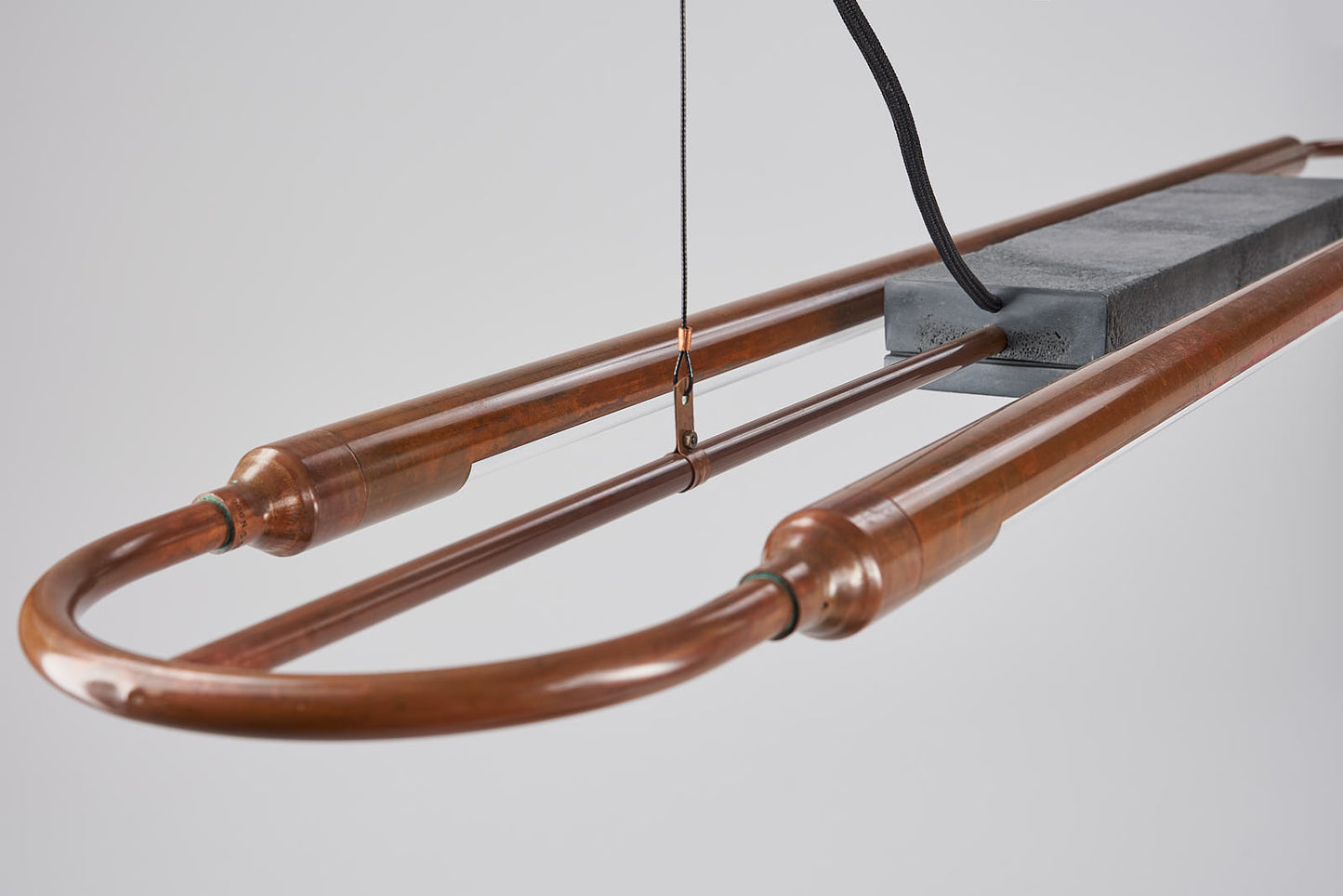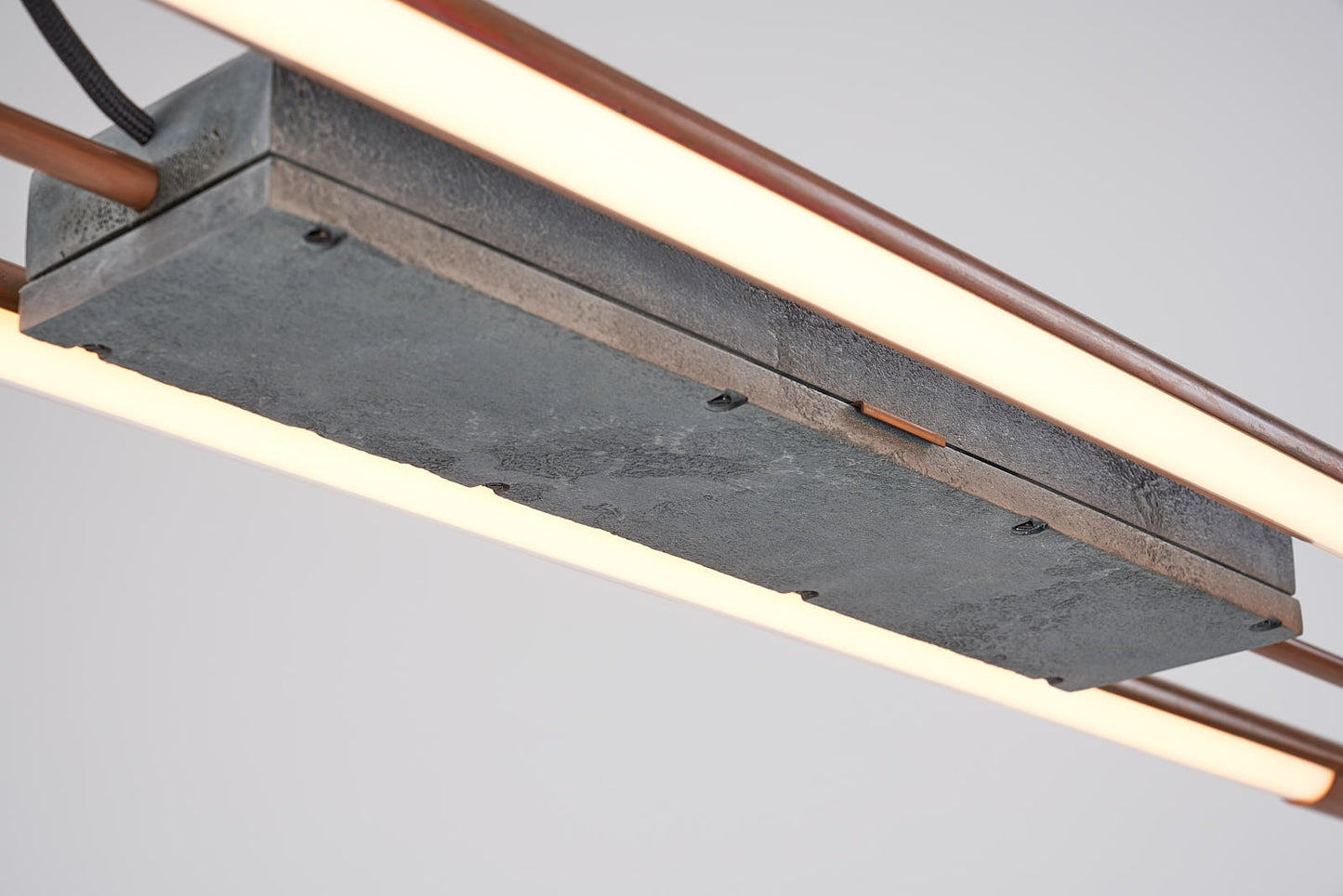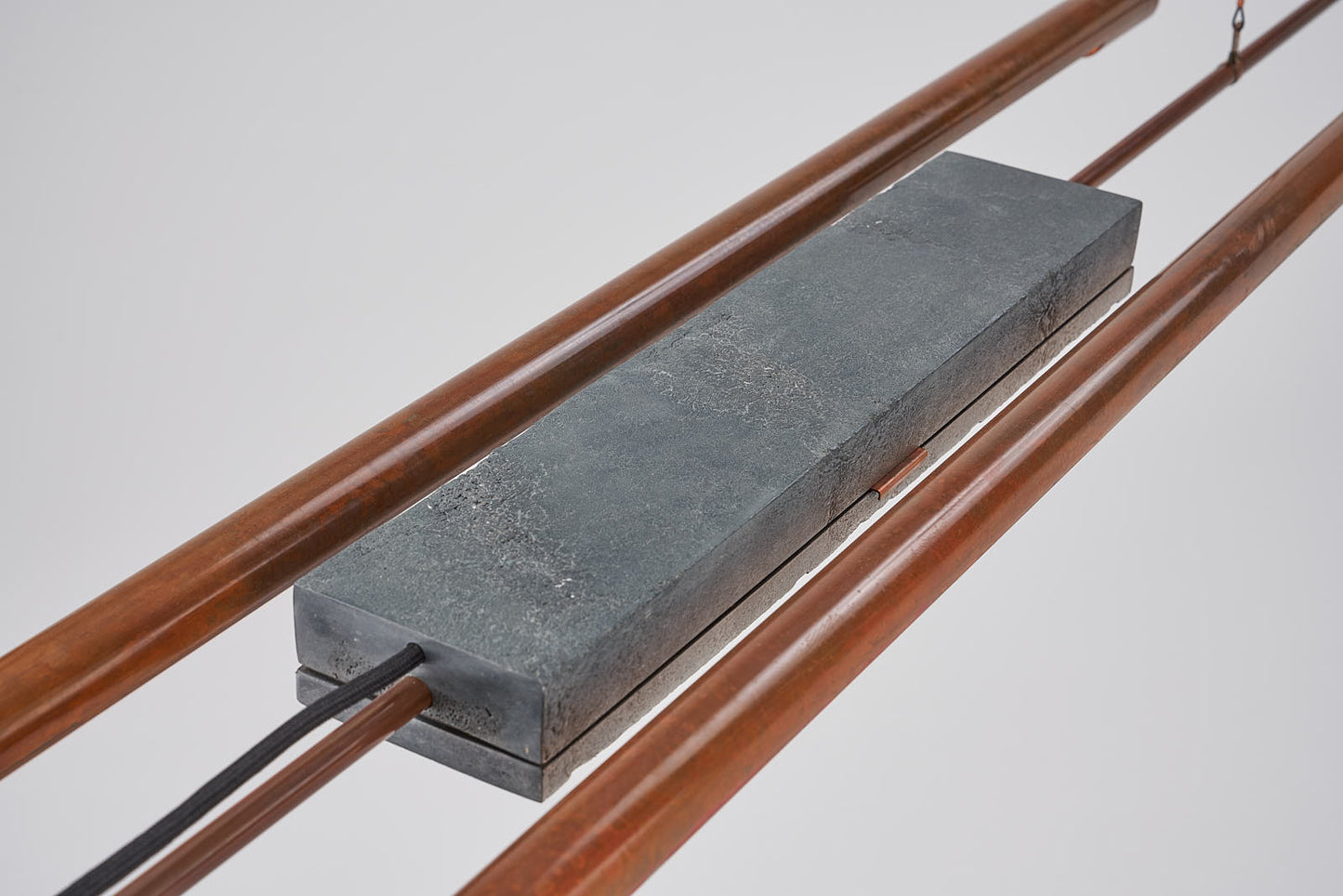 Linear Light Source


Choosing between LED and fluorescent lights, here are the differences:
NOTE: "When you choose the option of an LED tube, please consider that an LED tube only emits light downwards, and the tube is partly made of aluminum where the LED is attached. Find an example of the tube here."


Energy Efficiency:
LED: Highly energy-efficient, producing more light and less heat. LED light is directional, typically illuminating in one direction. Some LED tubes have an aluminum top part for improved heat dissipation, and they are mounted on this aluminum part.
Fluorescent: Less energy-efficient, emitting more heat. Fluorescent light emits in all directions.
Lifespan:
LED: Longer lifespan (up to 50,000 hours) compared to fluorescents (10,000-15,000 hours).
Light Quality:
LED: Offers better light quality, with better dimmable options.
Fluorescent: May have varied light quality.
Maintenance:
LED: Requires less maintenance due to its longer lifespan.
Fluorescent: Needs more frequent replacements.


Assisting in making a choice about which light color best suits the environment where you intend to use the lamp.
The terms 2400K, 2700K, 3000K, and 4000K refer to different color temperatures of light, usually associated with various types of lighting sources. Color temperature is measured in Kelvin (K) and is used to describe the color appearance of light emitted by the fixture.
2400K: Warm White:

Warm white light has a yellowish or amber tint.
It is similar to the color of incandescent bulbs and is often used for creating a cozy and intimate atmosphere.
Commonly used in residential settings, restaurants, and areas where a warmer, more relaxed ambiance is desired.

2700K: Warm White:

Slightly cooler than 2400K, but still in the warm white range.
Often used for general residential lighting, such as in living rooms and bedrooms.
Provides a warm and inviting atmosphere.

3000K: Soft White to Warm White:

A neutral to warm white light.
Suitable for a variety of settings, both residential and commercial.
Commonly used in kitchens, bathrooms, and workspaces where a balance between warm and cool lighting is desired.

4000K: Cool White:

Cool white light has a bluish or cool tone.
It is often associated with daylight and is used to create a bright and alert environment.
Commonly used in offices, retail spaces, and areas where task lighting is important.
Dimmability
Non-dimmable
No possibility to dim the fixture. 
Intern push button or turn switch
There will be a button of switch on the fixture itself to tune the right brightness of the light. With this option its only possible to have a on/off switch on the wall.

Example of our Copperhead with a internal push dim:
External 0/1-10
In lighting systems that use 0-10V dimming, five wires are commonly required to enable communication and control between the dimmer and the lighting fixture. Here's a breakdown of the function of each wire:
Line (Hot) Wire (L): This wire carries the incoming electrical power from the source to the dimmer switch. It is typically the "hot" wire that delivers the voltage needed to power the lighting system.

Neutral Wire (N): The neutral wire completes the electrical circuit and provides a return path for the current. It is necessary for the overall functioning of the electrical system and is often connected directly to the lighting fixture.

Ground Wire (G): The ground wire is a safety feature that provides a path for electrical current to safely dissipate in the event of a fault or short circuit. It is connected to the ground or earth to prevent electrical shocks.

Control Voltage (+): This wire carries the control signal that determines the desired light level. In a 0-10V dimming system, a voltage between 0 and 10 volts is used to control the intensity of the light. The higher the voltage, the brighter the light.

Control Voltage (-): This wire complements the control voltage wire and provides a reference point for the control signal. Together with the control voltage (+) wire, it enables the dimmer to send a variable voltage signal to the lighting fixture, adjusting its brightness accordingly.
In summary, the three power wires (Line, Neutral, and Ground) are responsible for supplying electrical power and ensuring safety, while the two control voltage wires (+ and -) are responsible for communicating the dimming level from the dimmer to the lighting fixture. This 5-wire configuration is commonly used in 0-10V dimming systems for greater control and flexibility in adjusting light levels.
With this option the fixture will be delivered with a 5 wired cable, Only suited if you have 5 wires installation.

External DALI
The DALI (Digital Addressable Lighting Interface) protocol is a digital lighting control system that allows for more advanced and flexible control of lighting fixtures compared to analog methods like 0-10V dimming. One notable characteristic of DALI is that it requires five wires for communication. Here's a breakdown of the reasons behind the need for five wires:
Power Supply (2 Wires):

Two wires are dedicated to supplying power to the DALI network. This is often referred to as the power or voltage bus.
One wire carries a positive voltage, while the other carries the corresponding negative or ground.

Data Lines (2 Wires):

Two wires are used for bidirectional communication of digital signals between the DALI control devices and the lighting fixtures.
These data lines enable devices like DALI dimmer switches, sensors, and controllers to communicate with individual or groups of DALI-compatible lighting fixtures.



Grounding Wire (1 Wire):

The grounding wire is essential for safety and is connected to the ground for the entire DALI system. It helps to ensure proper functioning and safety by providing a path for electrical faults to dissipate safely.
Voltage
Worldwide there are different voltages per country. The most used are 120V and 220V. If you don't know the voltage in your country, please check this map.
120V 
-United States
-Canada
-Mexico
220V 
-Europa
-Australia
-Japan
-South Korea


If you have still doubts please get in contact with us.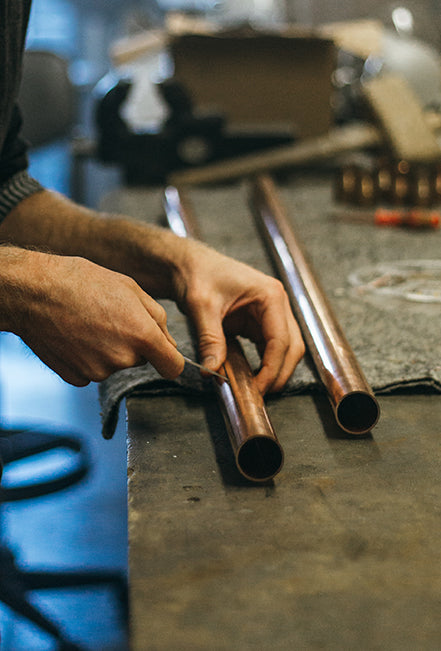 The story behind
The Copperhead lamp is an expression of our fascination with the pure elegance of copper piping. The shape of the fixture brings together the beloved fluorescent lights that we often come across in abandoned factories and the classic simplicity of our Bauhaus favourites. We have taken the best of both, and added our own touch.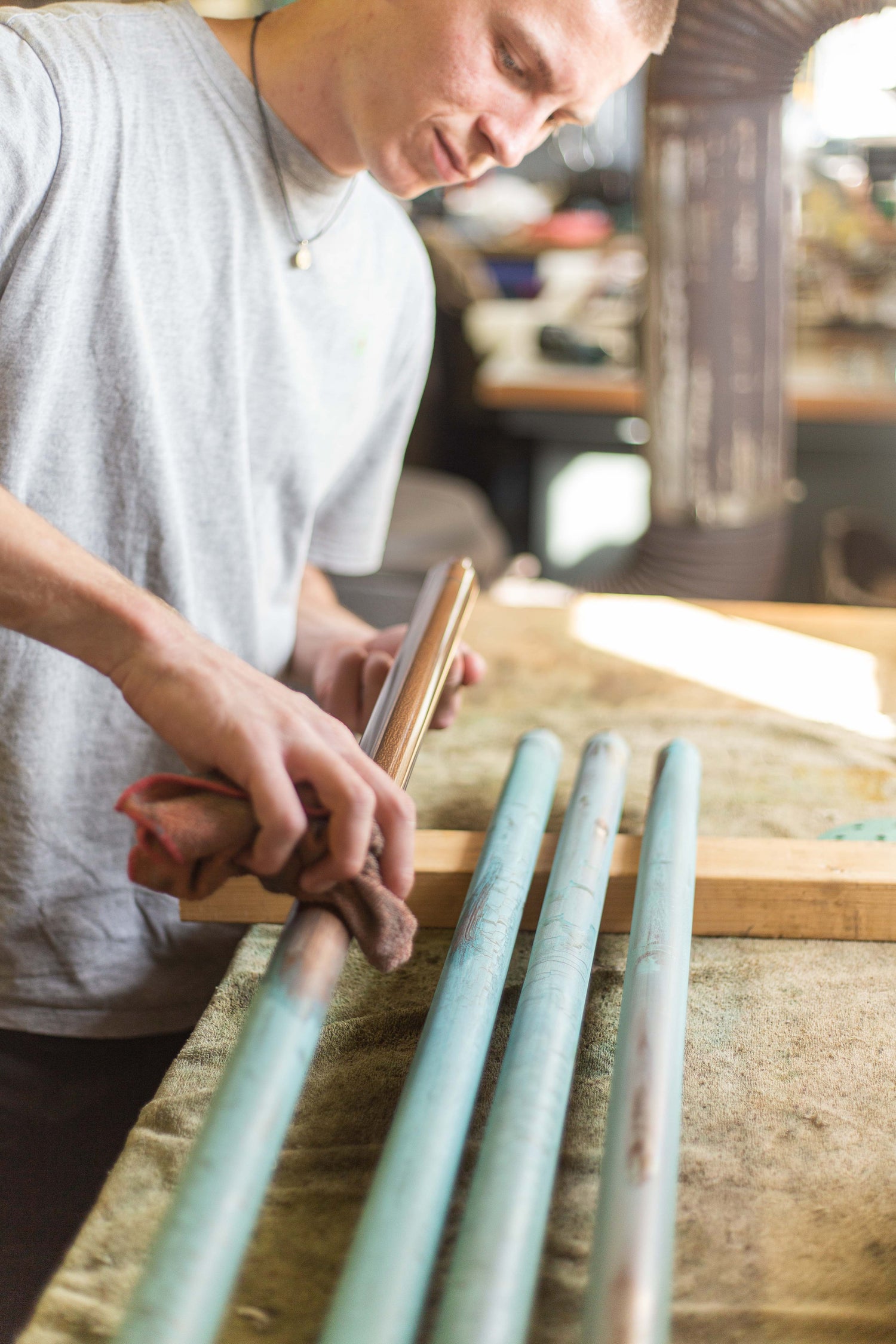 Design
Our original inspiration came from a single component: the tapered pipe socket that creates a smooth transition between two copper pipes. It made us realize how elegant plumbing design can be. By allowing the copper tubing to oxidize, each Copperhead lamp acquires its own natural patina, making it truly one of a kind.
Do you have a question or would you like to receive a quote?